Private Villa Dubai - Ombre Triangles
For a private villa in Dubai, La Casa Design Studio asked Preciosa to design and produce lighting with no other direction then it should be modern and fit their existing design proposal.Five different spaces in the beachfront home feature bespoke Preciosa lighting. Greeting guests is a geometric design with a bit of an Art Deco vibe. These triangular shapes were designed and developed specially for this project. The glass was frosted and then coloured which gives the pieces an almost textual appearance. A smaller version of this installation was replicated in the powder room. The tailored shape of these components was used in a different installation for the villa's office. Here our designer decided on flat glass with a white cut, again adding a touch of texture to the lighting.
Triangles with round edges. Bohemian Crystal - a material with such a long tradition displayed in a contemporary way. The linear sources are distributed in some of the triangles to create a unique light atmosphere, which nicely outlines the style of the entire villa. I am proud to show one of my first realizations in Dubai. Preciosa team accomplished such amazing bespoke Piece of Art.
The minimalistic triangular installation brings a modern and contemporary vibe. I feel lucky to had a chance to design such a modern piece.
https://www.preciosalighting.com/news-detail/the-glow-of-home
---
Anežka Závadová © 2020
Located in Mirdif City Centre, the restaurant was founded by Sheikha AlMheiri, who also owns Society Café & Lounge in Jumeirah and is operated by MAD Hospitality Investment.
Preciosa collaborated with Vera Dieckmann, founder and creative director of XO Atelier.
Summer holidays in Europe were incorporated into the design language of the six-month project, to create an interior that subverted old notions of luxury and pays homage to regional Mediterranean architecture.
"I wanted to create a contemporary design language incorporating classic forms of Mediterranean architecture, evoking the region's rich materials, soft palette, and lighting."
Vera Dieckmann
My task was to translate Vera sketch and Idea into the materiality of Bohemian Crystal.
I am glad I had an opportunity to work with Vera on this particular project. I am incredibly proud that we did it with an innovative approach, and we pushed the limits of the fabrication step forwards. The diachronic and iridescent layers create a beautiful reflection through space.
Toplum is nominated for
@design.et.al
in the category Global Restaurant
---

Anežka Závadová © 2020
Crystal Ballerinas
Have you seen our dazzling new project, the concept of Dancing Ballerinas?
It is designed to evoke the world of ballet and inspired by Degas paintings that merge classical beauty and modern realism.
With our Craftmanship that breathes life into precious, unique pieces, we wanted to capture the atmosphere of Degas paintings - the spirit of classicism, to whose principles of elegance, simplicity, and style. It is a world of soft pastel hues of pink and amber, the most delightful colors that warm and lights space.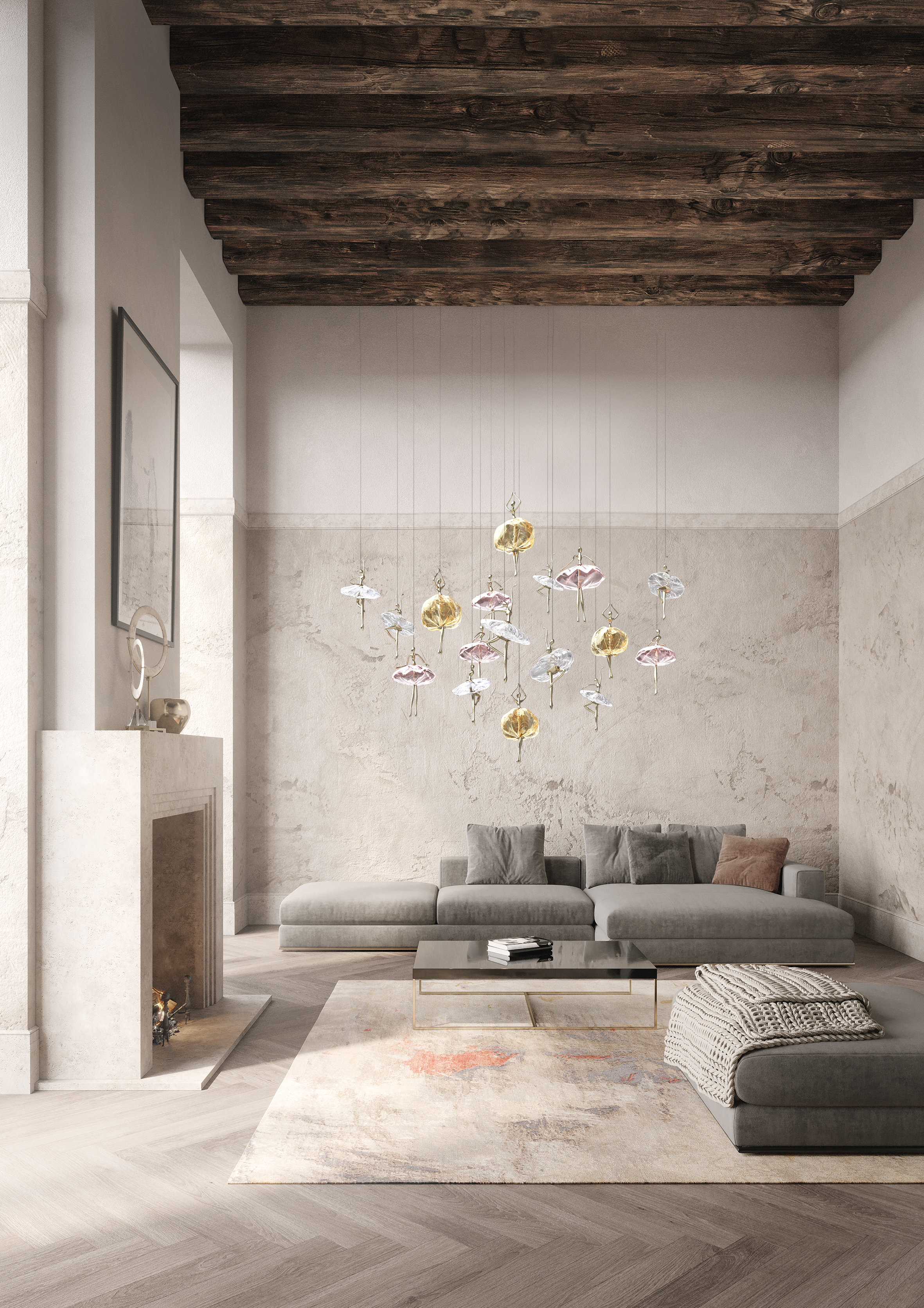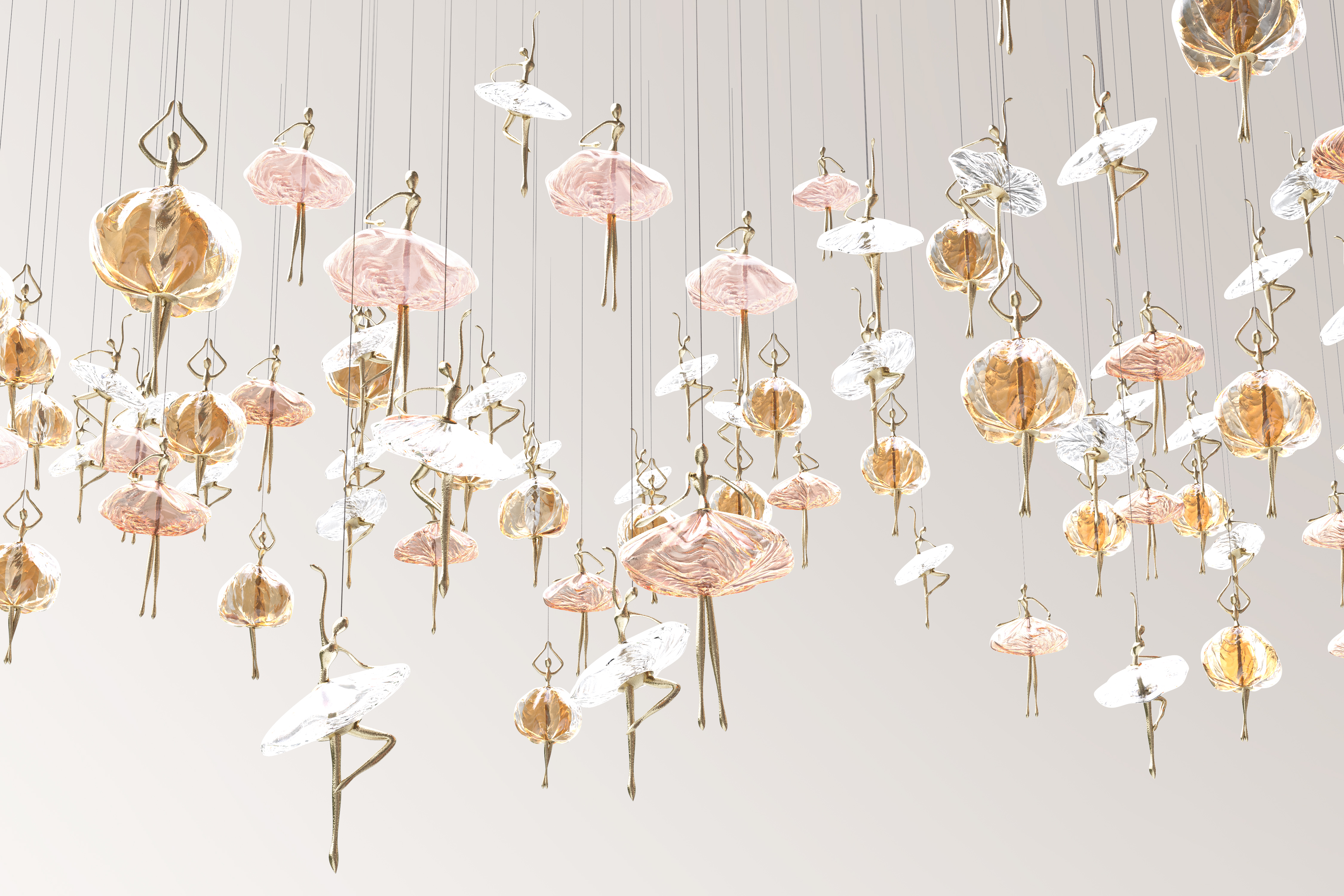 ---

Anežka Závadová © 2020
Canopy of Light - Mandarin Oriental Dubai
The desert of the United Arab Emirates can conjure up several images in one's mind. Hot. Dry. Dusty. Camels. But the region also has beautiful vegetation that has cunningly adapted to its environment. Inspiration from such desert trees has led to a captivating lighting installation now sparkling in the Mandarin Oriental Jumeira.
The Mandarin Oriental Jumeira is a gorgeous beachfront resort right on Jumeirah Beach. Entering the space, guests should instantly be captivated by the gorgeous crystal and brass trees spread throughout the lobby. Preciosa worked with Kuala Lumpur-based DESIGNWILKES to create the magnificent look.
Canopy of Light is a dynamic installation featuring 14 trees in three sizes, made from hundreds of hand-blown Bohemian crystal leaves with a champagne matte brass finish. What makes the installation unique on the hospitality market is that the lights in the trees are specially programmed to produce different effects. The Mandarin Oriental has a day scene, a night scene, and then every hour the lights 'move' through the trees. Each tree is modelled separately and differently, roughly 400-500 channels, depending on the tree. This means a different light effect can be programmed to each individual tree and not necessarily the 'forest' as a whole. Motions that could be created include a downward movement of light through the trunk, a sparkling effect or a motion that looks like wind is blowing through the leaves.
I had an opportunity to work in collaboration with DESIGNWILKES. My part was harmonizing the scale of the trees in relation to each other and with a relation to space and styling the lower part of the trunk.
VIDEO
---

Anežka Závadová © 2020
Ossiano Underwater Bar & Restaurant
- Underwater Creature
In the Ossiano Underwater Bar & Restaurant, a variety of original Preciosa creations enlighten the space. Welcoming diners is a sparkling violet and crystal Stardust wall that is more than seven metres long. With a nod to unique underwater sea creatures, the main chandelier is two metres across and consists of crystal glass tubes in shades ranging from honey to clear. The installation is brought together with a gold and bronze metal finish.Another space where one of Ms. Závadová's creations presents a warm vibe is in the Ossiano's reception area.
"The inspiration for this installation came from underwater flowers and their movement in the ocean," she said. "It is a celebration of the crystal heritage in Crystal Valley because we are working with large-scale hand-blown pieces."
The light is formed using a cluster of closed bowls within a bell shape which attracts attention inside the space. Also hidden inside the cluster are Preciosa's Muutos solitaires.
"The combination of light amber and clear pieces with the significant Muutos texture mimics undersea life," said Ms. Závadová.
Ms. Závadová also created three large installations for a public corridor from hand-blown crystal leaves.
"The leaves installation is distributed in a wave-like composition to direct people through the long hall. The dynamic installation brings movement into an otherwise functional space," she explained. "The installation is made from amber and clear ribbed leaves. The ribbed surface finish brings a more optical and sparkling light effect to the installation."
Setting the right first impression was important to designers when guests enter the Imperial Club & Bar. The lighting installation features a mix of optical glass and cracked glass in shades of champagne and amber. The gold and bronze metal finish adds to the warmth of the light.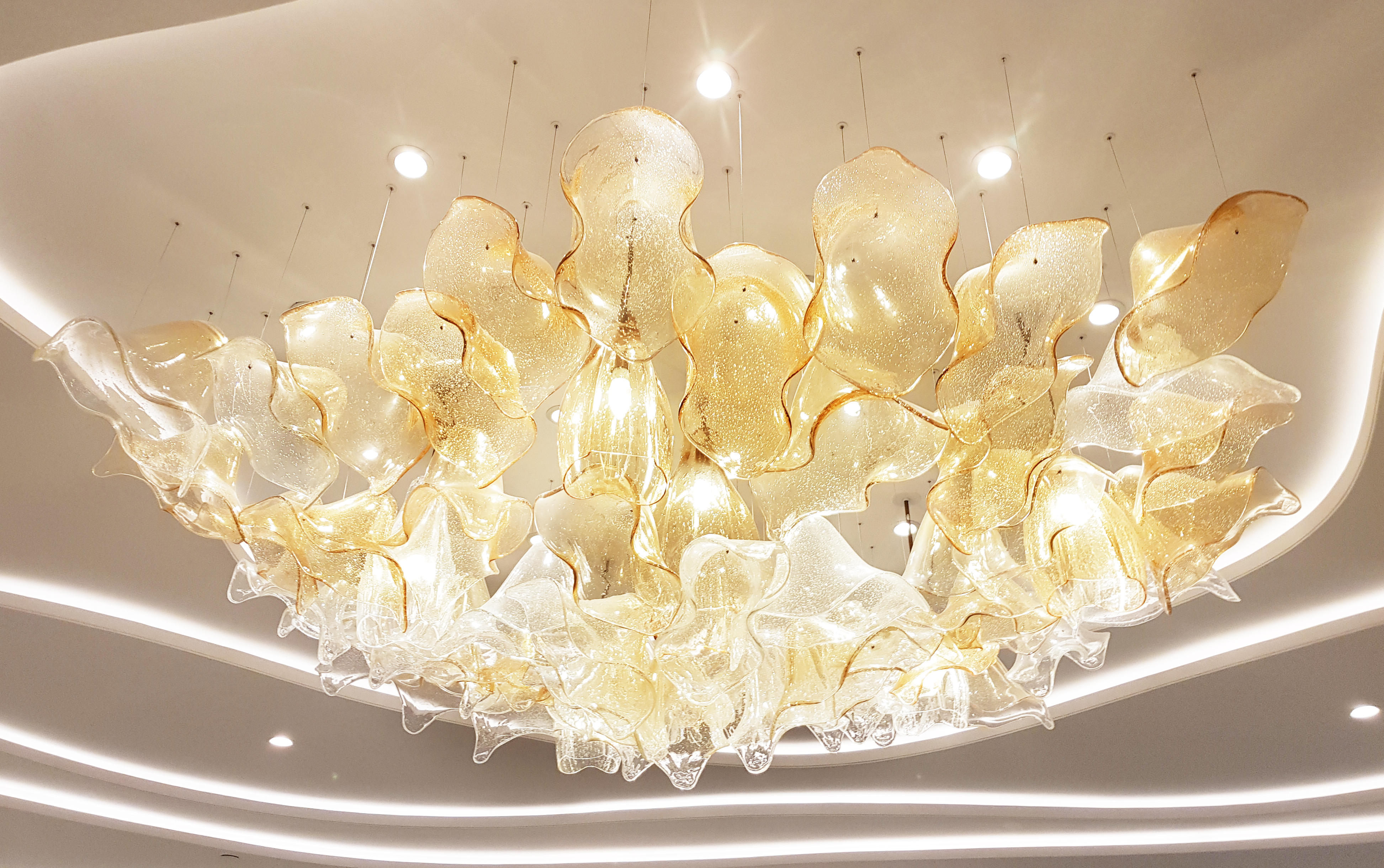 ︎
---
Anežka Závadová © 2020