Mohammed Bin Khalifa Cardiac Centre, Bahrain
Al Khalifa Cardiac Center is located in Manama, Bahrain.
Part of the hospital is reserved for the Bahraini royal family. This was where the idea of having a nature-inspired space began. The designers from Massa had experienced Preciosa's Crystal Garden installation at Downtown Design Dubai 2017 and this then became the basis for a more extensive garden concept.
Because patients and visitors should feel like they are outdoors, one requirement for the installations was that no artificial elements be used. Preciosa worked with Nichibo, a Dubai-based landscape and green wall specialist. They were able to provide living flowers and an irrigation system that can be contained within the lighting installations.
In the conservatory, guests can experience Crystal Biosphere. This organic installation is a mix of Preciosa Signature Design elements, including Crystal Tree, Crystal Field and Crystal Birds. All three were handcrafted in Crystal Valley and are enhanced by the live greenery surrounding the lights.
The main lobby installation is a variation on the original Crystal Garden. Preciosa designer Anežka Závadová developed the concept for the hospital. More than 1100 hand-blown crystal drops make up the majority of the installation which is complemented by more than 500 clear and frosted flowers hanging from wires. Below, hundreds of frosted flowers and leaves decorate a carpet of greenery. This field of crystal flowers is replicated underneath the main staircase. More than 250 hand-blown flowers in crystal and amber again add sparkle to fresh greenery.
No one can resist the allure of pure crystal. Preciosa created a crystal art wall also in the lobby to augment the natural sparkle in the space. Also designed by Ms. Závadová, the sculpture features nearly 900 clear, frosted, and amber hand-blown crystal leaves. There is no light source here and the leaves are attached directly to the wall.
The design concept was finalized in 2017 but the final installation and photography were executed in 2021.
Site-Specific Crystal installation with Dynamic light scene
Collaboration: Massa Design Dubai
Photography credit: Ales Vyslouzil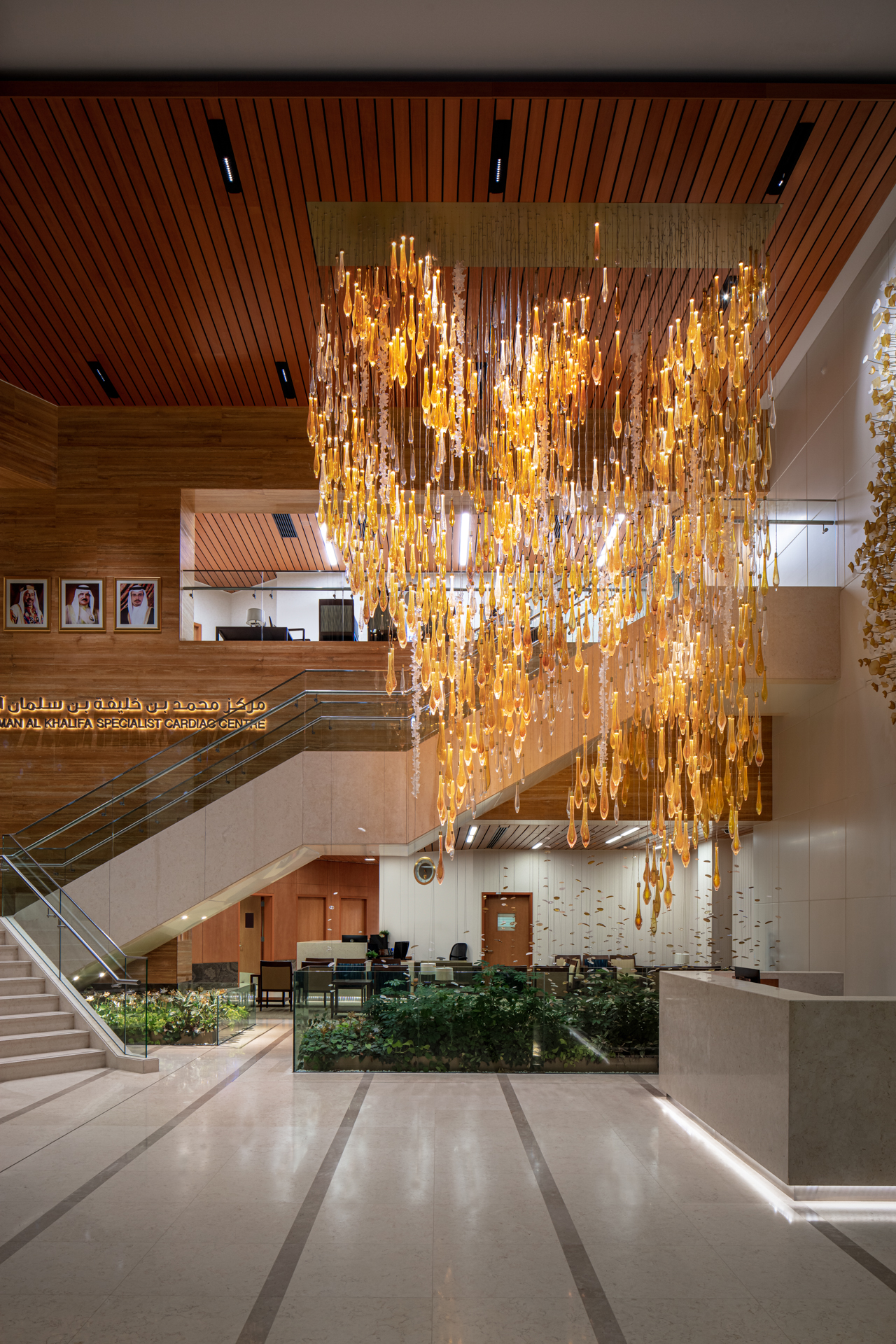 ---

Anežka Závadová © 2022