Ossiano Underwater Bar & Restaurant - Underwater Creature
In the Ossiano Underwater Bar & Restaurant, a variety of original Preciosa creations enlighten the space. Welcoming diners is a sparkling violet and crystal Stardust wall that is more than seven metres long. With a nod to unique underwater sea creatures, the main chandelier is two metres across and consists of crystal glass tubes in shades ranging from honey to clear. The installation is brought together with a gold and bronze metal finish.Another space where one of Ms. Závadová's creations presents a warm vibe is in the Ossiano's reception area.
"The inspiration for this installation came from underwater flowers and their movement in the ocean," she said. "It is a celebration of the crystal heritage in Crystal Valley because we are working with large-scale hand-blown pieces."
The light is formed using a cluster of closed bowls within a bell shape which attracts attention inside the space. Also hidden inside the cluster are Preciosa's Muutos solitaires.
"The combination of light amber and clear pieces with the significant Muutos texture mimics undersea life," said Ms. Závadová.
Ms. Závadová also created three large installations for a public corridor from hand-blown crystal leaves.
"The leaves installation is distributed in a wave-like composition to direct people through the long hall. The dynamic installation brings movement into an otherwise functional space," she explained. "The installation is made from amber and clear ribbed leaves. The ribbed surface finish brings a more optical and sparkling light effect to the installation."
Setting the right first impression was important to designers when guests enter the Imperial Club & Bar. The lighting installation features a mix of optical glass and cracked glass in shades of champagne and amber. The gold and bronze metal finish adds to the warmth of the light.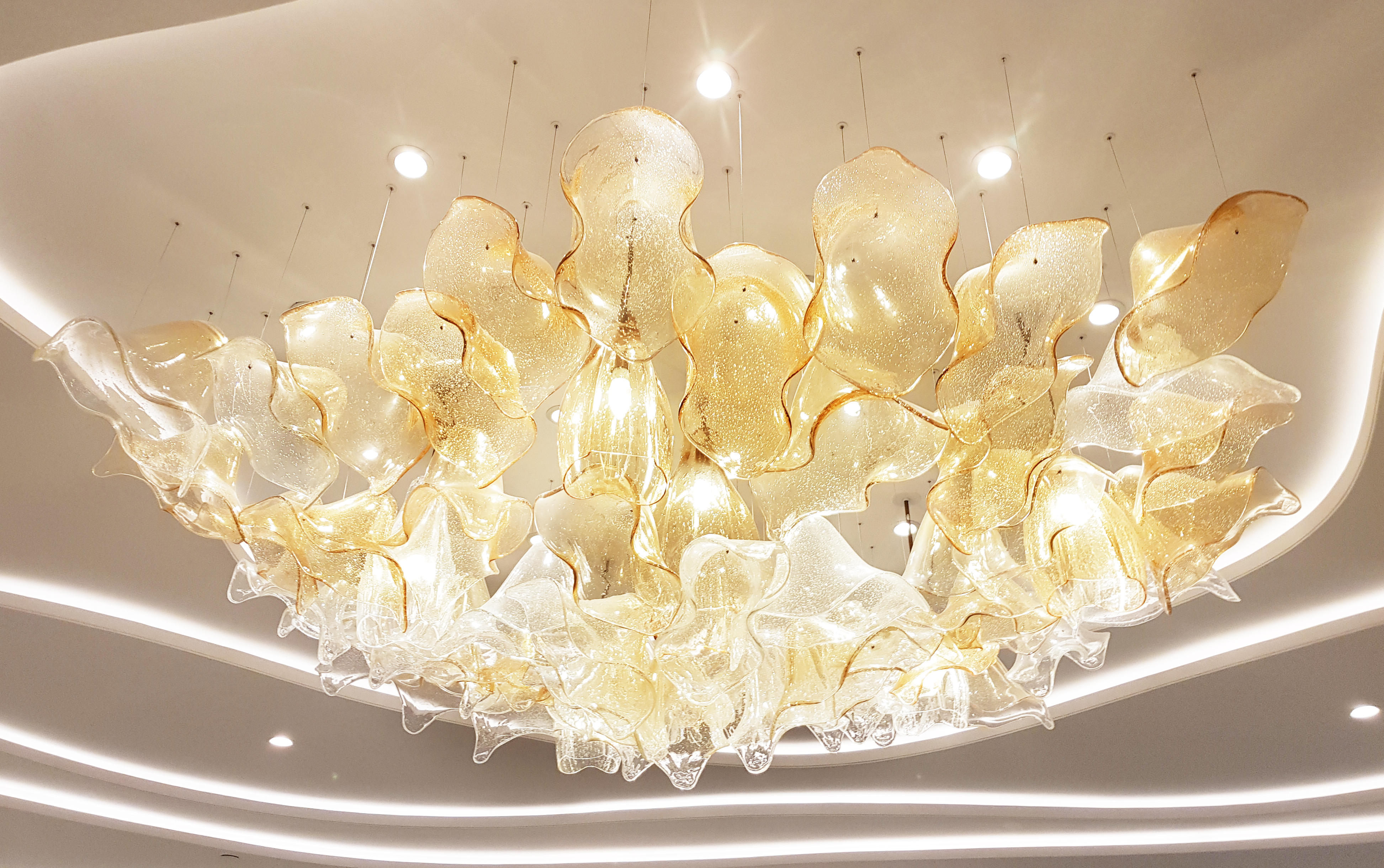 ---

Anežka Závadová © 2022